C'est l'histoire d'une robe et d'une prestigieuse actrice de la fameuse série américaine Sex And The City qui a fait tend parler d'elle, à savoir Sarah Jessica Parker alias Carrie Bradshaw, la mettant en scène pour célébrer le plus beau jour de sa vie, et être une divine mariée dans une robe de la célébrissime Vivienne Westwood.
C'est ainsi qu'à commencé l'incroyable conte de fée pour Carrie Bradshaw il y a maintenant plus de dix ans, où elle portait la splendide robe faite sur mesure pour épouser son corps de rêve. Dans cette robe elle se sentait unique, belle, étincelante, cela fait maintenant plus de dix ans que la célèbre robe a été conservé très précieusement car elle porte en elle le magnifique récit de cet épisode inédit qui a été visionné par des millions de téléspectateurs partout dans le monde entier.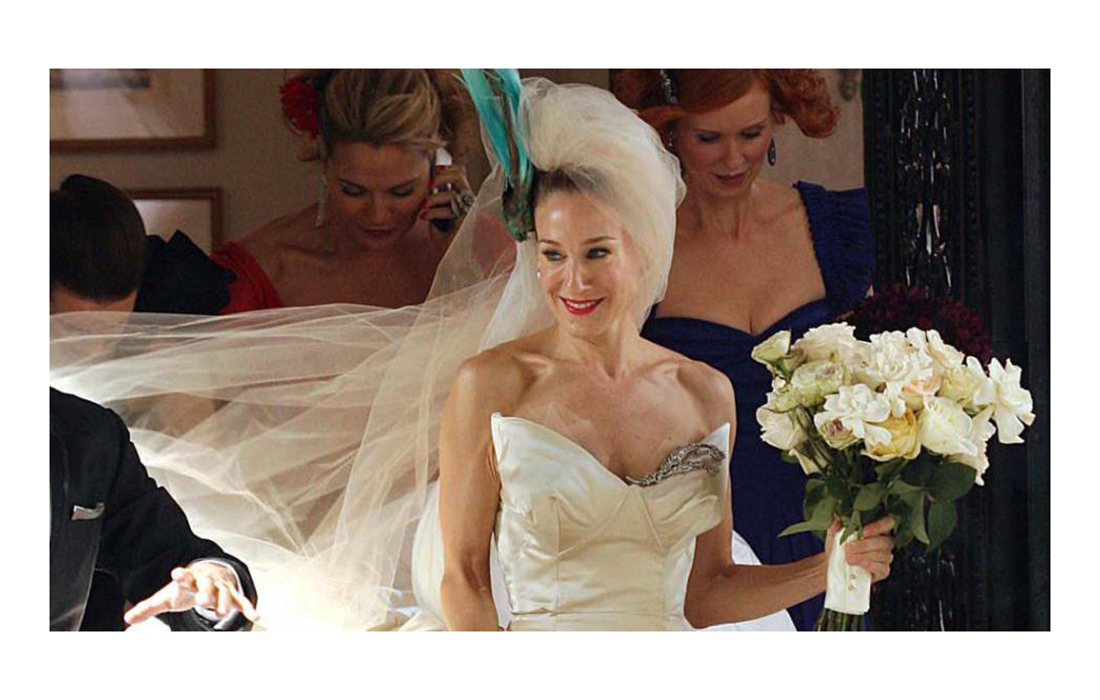 La célèbre créatrice de mode Vivienne Westwood est née en 1941 dans le village anglais de Tintwistle. Fille de Dora et Gordon Swire, Vivienne Isabel – aînée de trois enfants. Après des études à la Harrow School of Art (qui deviendra l'université de Westminster), Vivienne Swire a enseigné dans une école primaire du nord de Londres. Elle aimait ce métier d'enseignante qu'elle exercera jusqu'en 1971.
Passionnée d'art et surtout de fashion elle se lance dans le monde de la mode pour faire jaillir toute sa créativité à travers des tenues qu'elle crée au gré de ses envies en puisant dans son imagination débordante pour briller sur les podiums et propulser sa carrière.
Dans les années 80, la jeune femme est classée parmi les six créateurs les plus influents de l'époque par John Fairchild dans sa bible de la mode, le « Women's Wear Daily ». En 1981, Vivienne Westwood présente son premier défilé intitulé « Pirate » à Londres, et un an plus tard elle est la première styliste anglaise à proposer un défilé à Paris. Depuis, elle a été a plusieurs reprises primée comme British Designer of the Year.
Avec ce magnifique palmares la Maison Vivienne Westood a donc tenue a rendre un immense hommage à cette robe qui a été confectionnée avant tant de passion où toute l'âme de la maison de couture est présente dans les moindres détails.
La styliste britannique a voulu créer de nouvelles collections en s'inspirant de la fameuse robe afin d'apporter toute la créativité dans des pièces uniques et surtout très originales, il s'agit de modèles travaillés avec beaucoup de soin et de précision car la maison de couture aime le travail soigné.
Cette somptueuse robe en satin de soie duchesse ivoire au corset parfait et à la jupe crée exclusivement  avec du taffetas Radzimir en soie ivoire a transformé l'actrice americaine en reine d'un jour.
Pour fêter ses 10 ans, la créatrice a spécialement décliné des pièces de prêt-à-porter en référence à cette robe. La Maison Vivienne Westwood a créé spécialement dans sa collection Printemps-Eté 2018 des pièces de Prêt-à-porter se référant à la robe de Jessica Parker Bradshaw : la robe de cocktail, le corset et la jupe  Wilma, tous conçus à l'aide du système de coupe Wilma que Vivienne a utilisé pour crée la robe la véritable robe de mariée.
Sa robe de mariée fait désormais partie des pièces mythiques du cinéma. Pour célébrer le film sorti en 2008, Vivienne Westwood a souhaité exposer sa création et faire comprendre qu'une robe de mariée est précieuse et que toute la symbolique qu'elle comporte est sacré
Un magnifique hommage à cette série américaine où la femme est présentée et mise à l'honneur sous son plus beau jour, une invitation à la beauté et à l'élégance que nous offre Vivienne Westwood avec cet hommage inédit au monde de la mode.
Avec une belle déclinaison pour cette collection qui se veut être simple et sophistiquée à la fois pour faire parti du dressing de la femme qui se reconnait en l'actrice de Carrie Bradshaw et qui souhaite avoir un look fashion et surtout très tendance.
Une fois de plus la talentueuse Vivienne Westwood a surpris les adeptes de la mode et des nouvelles tendances avec sa superbe collection.
Si vous êtes de passage à New York, pour célébrer l'occasion, la robe de mariée portée par Sarah Jessica Parker, est à admirer à New York, dans la boutique new-yorkaise de Vivienne Westwood, située 14 E. 55th Street, New York, 10022.
Alors pour votre prochaine virée shopping vous saurez que Vivienne Westood est la boutique incontournable.
Vivienne Westwood, 175 rue Saint-Honoré, Paris 1er
Sophie Grimaud