---
Ils étaient 120 000 à voter, 120 000 acteurs de cinéma et de la télévision qui devaient décerner les prix à leurs pairs lors de la 25e cérémonie des Screen Actors Guild Awards qui s'est tenue le 27 janvier dernier à Los Angeles. Une cérémonie qui jetait la lumière sur le talent des acteurs et les mérites des films et séries en totale adéquation avec les joyaux qui eux aussi brillaient aux bras, au cou et aux oreilles des actrices sublimement parées par Chopard.
Bagues et boucles d'oreilles Chopard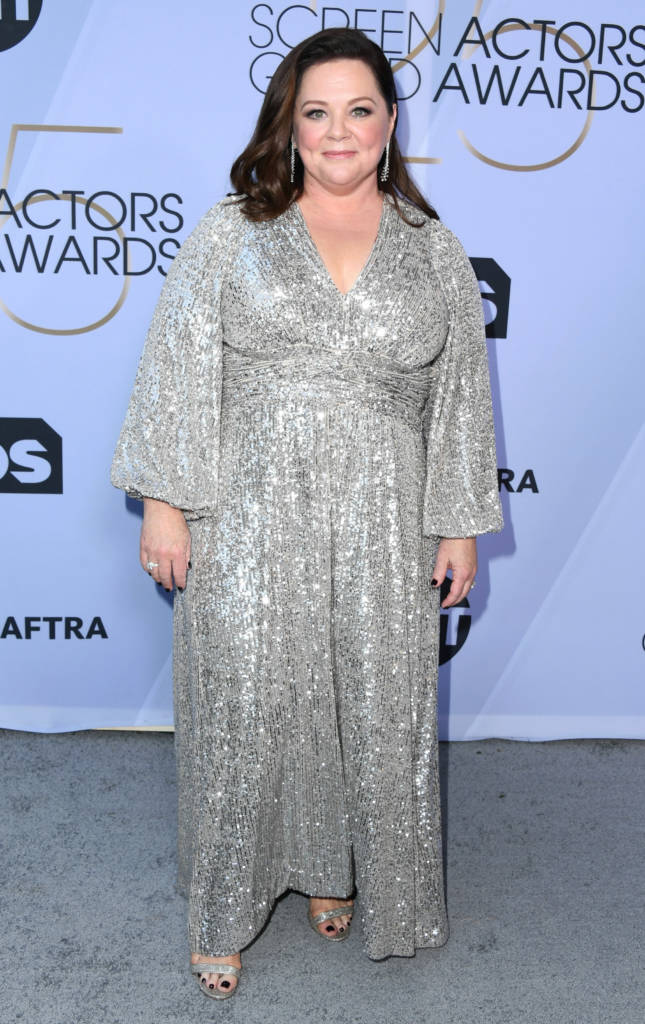 Melissa McCarthy, qui concourrait dans la catégorie meilleure actrice pour son rôle dans Can you ever forgive me? avait choisi de porter une paire de boucles d'oreilles en or blanc serti de diamants poire et une bague en or blanc et de diamants taille marquise. Deux pièces issues de la collection Green Carpet de Chopard. Une ligne dans laquelle
l'or blanc est éthique certifié Fairmined tout comme le sont les pierres. De quoi rappeler que Chopard est l'un des premiers joailliers dans le monde à avoir saisi l'importance de sauvegarder l'environnement en s'engageant dans un approvisionnement éthique et responsables pour ses matières premières. La traçabilité est garantie et l'or avec lequel ces pièces ont été réalisées a reçu le certificat Fairmined, ce qui assure qu'il a été produit selon des standards sociaux, environnementaux et éthiques. L'éclat des diamants a, sans doute, un peu atténué la déception de Melissa McCarthy de ne pas remporter le prix décerné cette année à Glen Close  pour son rôle dans The Wife.
Une autre actrice avait elle aussi fait le choix d'être parée en Chopard. La ravissante Catherine Zeta Jones – qui assistait à la cérémonie pour accompagner son époux Michael Douglas nommé dans la catégorie meilleur acteur dans une série comique –  arborait des joyaux de la collection Haute Joaillerie Chopard. Boucles d'oreilles en or blanc et diamants sertis triangles, bagues en or blanc avec un saphir ovale de près de 16 carats et une avec un diamant marquise rajoutaient à la beauté de celle qui, dès 1998, figurait au classement annuel des plus belles femmes du monde établi par le magazine américain People.
Les hommes étaient à la bonne heure en Chopard
Harry Shum Jr.

L.U.C XPS 161946-5001
Quant aux hommes, point de frivolité, ils ont jeté leur dévolu sur les montres Chopard. La maison excelle là encore dans le domaine de l'horlogerie. Ce qui d'ailleurs était à l'origine son cœur de métier. Les ateliers de la famille Chopard, grande marque suisse, fondée en 1860 par Louis-Ulysse Chopard, avait gagné leurs lettres de noblesse grâce à leurs montres de précisions et leurs chronomètres réputés pour leur fiabilité. Joseph Fiennes, nommé dans la catégorie meilleur acteur dans une série dramatique pour son rôle dans The Handmaid's Tale, s'est laissé séduire par la montre Chopard L.U.C XPS en acier avec un cadran blanc. Harry Shum Jr. avait aussi opté pour une L.U.C XPS mais en or rose et avec un cadran argenté guilloché. Il était sur la liste de la catégorie meilleure distribution pour  le film Crazy Rich Asians.
Joseph Fiennes

L.U.C XPS 168591-3001
La cérémonie des Screen Actors Guild Awards donne la tendance du moment en matière de films juste avant la très médiatique soirée des Oscars. Les professionnels du cinéma et de la télévision en 2019 ont particulièrement mis l'accent sur Black Panther, qui compte parmi les grands vainqueurs de cette édition, et sur la série La Fabuleuse Mme Maisel qui a récolté trois prix. Un avant-gout ou non du verdict des Oscar qui seront remis lors de la 91e édition le dimanche 24 février au Dolby Theatre de Los Angeles.
Marie
Retrouvez l'actualité Luxe-Infinity dans notre rubrique Cinéma