Du 29 mars au 5 juin, l'exposition des Joyaux de la collection Al Thani sous la Nef du Grand Palais : Des grands Moghols aux Maharajahs
Depuis quelques jours, l'édifice de verre parisien accueille la plus grande collection de pièces indiennes inestimables et exceptionnellement présentées en France. Un ensemble de bijoux et joyaux témoins de cinq siècles d'histoire indienne.
La collection avait déjà fait l'objet de grandes expositions notamment au Metropolitan Museum of Art de New York et au Victoria and Albert de Londres mais celle-ci, l'assure Amin Jaffer « sera la plus ambitieuse à tous les égards : par son ampleur, par son  contenu et par sa muséographie. ».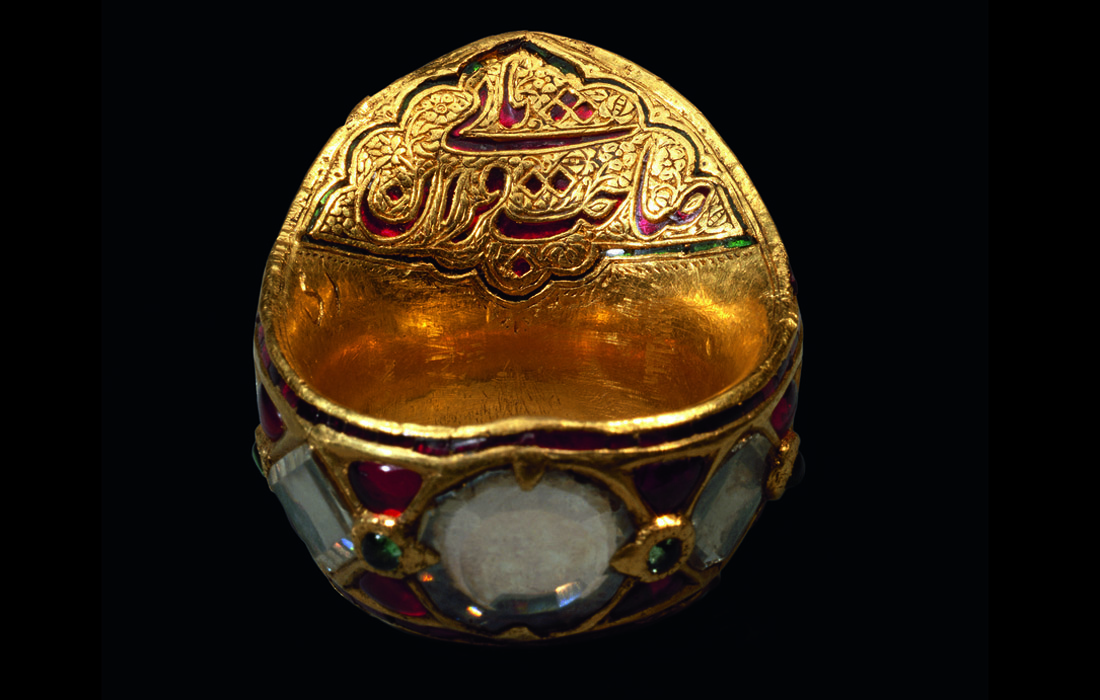 Ce sont des prêts exceptionnels qui ont été accordés par des institutions prestigieuses telles que la fondation Cartier ou le V&A. En tout 279 œuvres racontent l'histoire de la joaillerie indienne, de la période moghole établie au XVIe siècle à nos jours. L'exposition s'articule autour de deux axes : le raffinement artistique et technique de l'Inde puis les échanges avec l'Europe dès la Renaissance.
L'exposition commence avec un ensemble de gemmes de la dynastie impériale : les diamants d'Agra, l'œil de l'Idole qui aurait autrefois habillé le front d'une déesse hindoue ainsi que d'autres joyaux issus des célèbres mines de Golconde.
La deuxième section de l'exposition présente le  cristal de roche ainsi que le jade qui était particulièrement convoité par les empereurs chinois. Les visiteurs pourront y admirer la coupe de Jahangir gravée de vers persans connue comme le plus ancien jade moghole ;  ainsi que la  légendaire bague de Shah Jahan gravée en persan :  Sahib qiran-i thani (« Le Second Maître de l'Heureuse Conjonction »). Des trésors royaux conçus à l'aide de techniques uniques : l'emploi d'émaux polychrome et le kundan qui permettait de sertir les gemmes à l'aide de très minces feuilles d'or pour créer des formes raffinées et supports variés.
La Collection Al Thani témoigne aussi de l'opulence et de richesse des Cours princières qui succèderont à l'Empire Moghole. Des spinelles et émeraudes gravés de leur propriétaire, un écritoire orné de pierres précieuses incrustées autrefois utilisé dans les plus hauts cercles de la cour pour la rédaction des décrets impériaux, des pipes à eaux ou encore un bâton de commandement en cristal.
Une exposition étourdissante de richesse et d'opulence dont chaque objet est chargé d'histoire et laisse entendre la façon dont les princes asseyait leur pouvoir.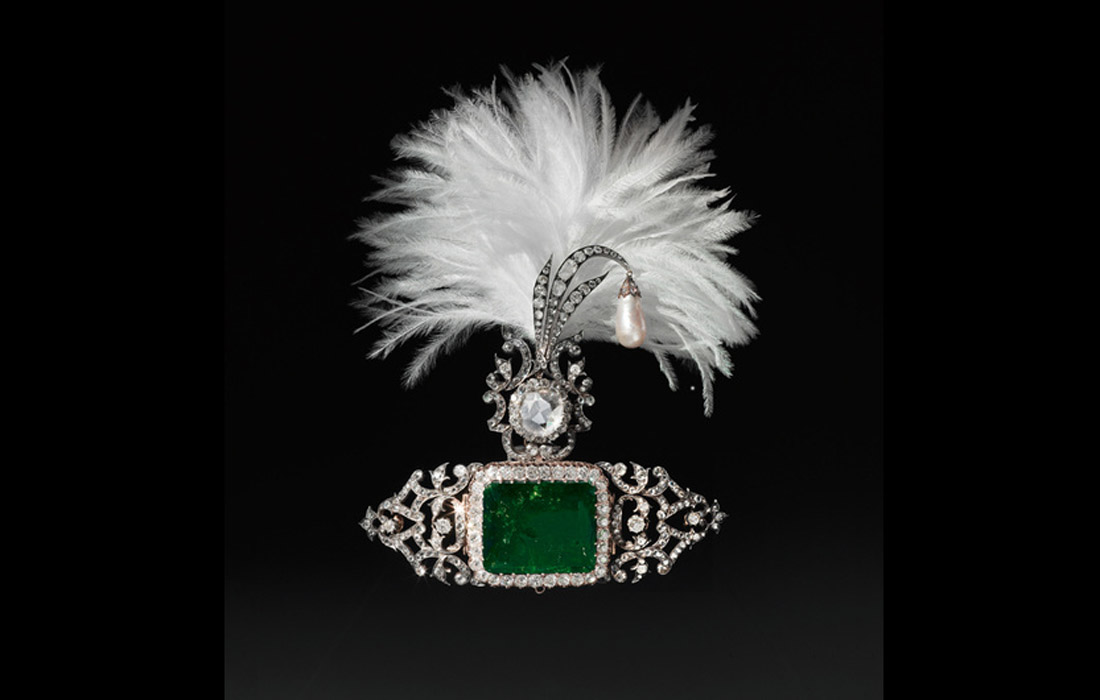 Une grande partie de l'exposition s'attarde sur la richesse des échanges qui se sont intensifiés entre l'Europe et l'Empire. Dès la Renaissance, les ateliers indiens s'approprient les formes et techniques occidentales.
Par la suite les  princes solliciteront les plus grands joaillers européens pour la conception de bijoux en fournissant les gemmes nécessaires. Parmi ces pièces exclusives les visiteurs pourront retrouver l'œil du Tigre de Cartier, diamant de couleur cognac, monté en ornement de turban.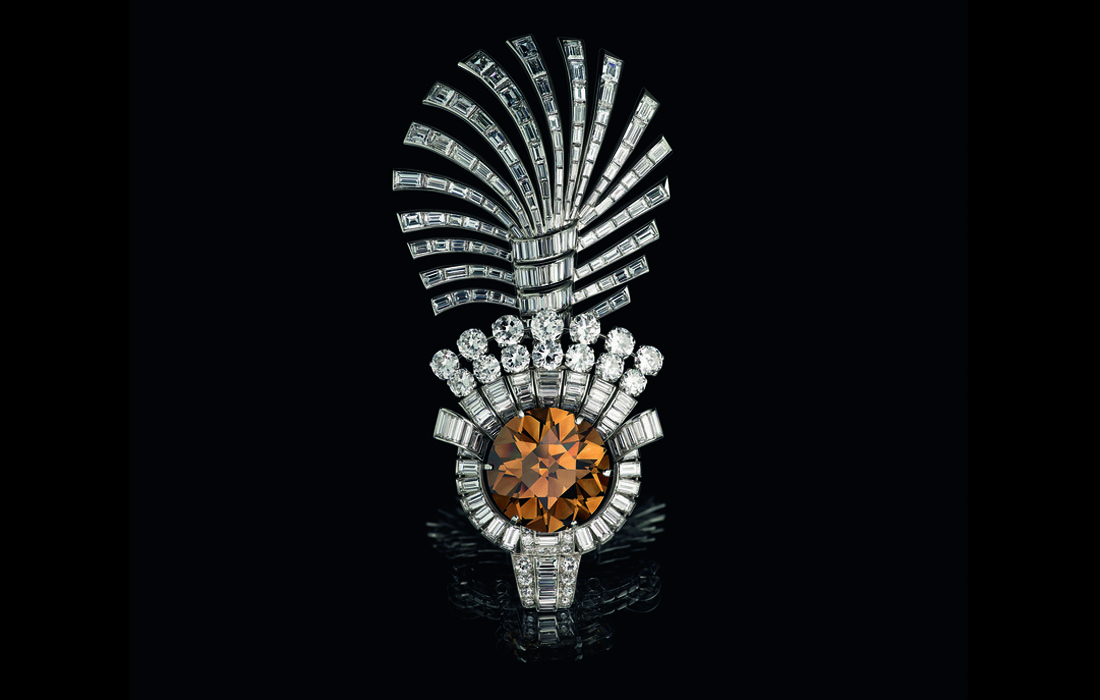 L'exposition se termine sur un hommage à la création contemporaine, avec des bijoux de joaillers indiens et européens s'inspirant des traditions ancestrales indiennes.  Pour seul exemple, Viren Bhagat associe les techniques d'aujourd'hui aux styles et aux formes traditionnelles.
Un trésor riche d'intérêt tant par les joyaux qu'elle présente que par son aspect historique. Des richesses culturelles mises à disposition des visiteurs avec à la clé des conférences pour revenir sur l'époque de cette cours princière que l'on connaît si peu, le dialogue instauré à la Renaissance avec l'Occident et des interrogations quant à l'avenir de la joaillerie indienne.
Marie.C