Un Bijou pour Noël est LE salon grand public qui expose les bijoux de marques de joaillerie et créateurs joailliers depuis quatre éditions, ce salon se déroule du 17 au 20 novembre 2017 à l'Hôtel de l'Industrie, 4 place Saint-Germain des Prés – Paris 6e.
Nous vous  invitons à y découvrir les créations joaillières originales et des joailliers aussi talentueux que chaleureux…
I-Les nouveaux exposants
Six nouveaux exposants au salon Un Bijou pour Noël
New
Sandrine Huet Concept
www.sandrinehuet.com
La créatrice Sandrine Huet est diplômée en joaillerie et en gemmologie. Passionnée par les minéraux, elle utilise les caractéristique de chaque pierre et ses vertus en matière de lithothérapie. Depuis vingt-cinq ans, elle réalise des créations tant pour les grandes maisons de joaillerie de la Place Vendôme, que pour les clients particuliers. Son talent ne se limite pas aux bijoux et accessoires de joaillerie : elle crée des stylos, des briquets, des boutons de manchette, mais aussi des pièces uniques tels que des pendulettes et autres objets décoratifs fonctionnels. Chaque projet qui lui est confié est abordé avec le souci de trouver la pierre adaptés à chaque création.
Sandrine Huet expose pour la première fois au salon de l'Hôtel de l'Industrie. Elle y présente une série de pièces uniques réalisées pour l'occasion et ornées de pierres fines et dures, dont elle a pris soin de respecter l'aspect naturel, voire brut, afin de souligner par le métal précieux la beauté intrinsèque de ces produits de la nature.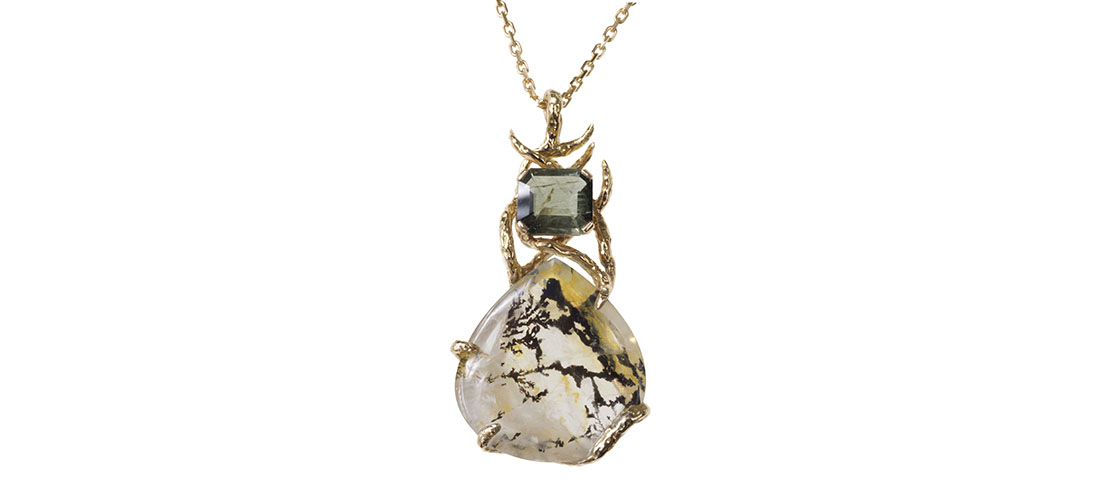 New
Marina Cabanel
www.marinacabanel.com
Marina Cabanel est une jeune marque créée par Cristina Egal. Cette créatrice est née en Colombie, où elle a appris la passion pour les pierres précieuses et bien entendu, les émeraudes en priorité. Après avoir mis son savoir-faire joaillier au service des maisons de la place Vendôme pendant une dizaine d'années, elle a eu l'idée de créer la start-up Quatorze Janvier, soutenue par le monde de la finance, puis de lancer en 2015 la marque Marina Cabanel, qui lance et soutient de jeunes créateurs de tous horizons à travers une boutique installée rue Saint André des Arts, à Paris. L'atelier de création joaillière Marina Cabanel produit des bijoux précieux en petites séries ou des pièces uniques, y compris sur mesure. La collection présentée au salon par la créatrice rend plus particulièrement hommage à la flore et à la faune, souvenir de ses origines sud-américaines.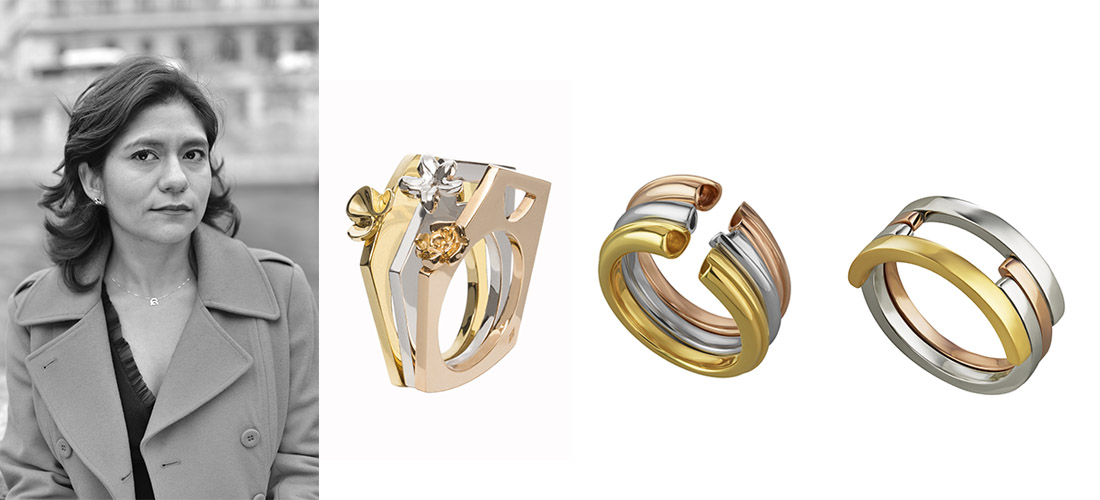 New
404 Place Vendôme
www.404placevendome.com
Derrière la marque 404 Place Vendôme se cache deux jeunes entrepreneurs : le premier est issu d'une famille de fondeurs et joailliers, le second est un spécialiste des nouvelles technologies. Leur idée est de vendre des bijoux sur mesure au grand public, à des tarifs accessibles, par l'intermédiaire de leur site, qu'ils présentent comme un écrin digital. Tout le monde peut devenir créatif et concevoir son propre bijou à partir d'éléments à combiner sur Internet. Il ne reste plus alors qu'à fabriquer les pièces à la demande. La technologie est ainsi mise au service du savoir-faire joaillier traditionnel. Quant au nom de la marque, il vient du célèbre code informatique « 404 not found ». Pour la première fois, l'équipe discrète de 404placevendome.com vient à la rencontre du public lors du salon Un Bijou pour Noël.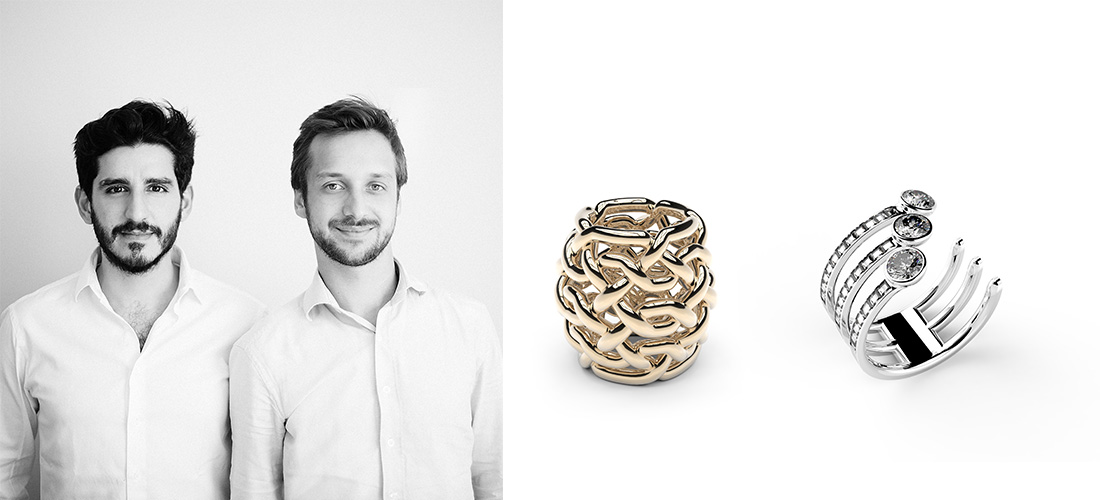 New
Bianchi
www.maison-bianchi.fr
La Maison Bianchi est une histoire de famille. L'histoire a commencé en 1978, lorsque l'artisan horloger Pierre Bianchi et son épouse ont décidé d'ouvrir une boutique de bijoux et de montres à Maizières-lès-Metz ; elle se poursuit avec leurs enfants Alexandre et Lydia qui insufflent une nouvelle dynamique à l'entreprise, notamment grâce à la formation d'Alexandre en gemmologie et bijouterie-joaillerie ; elle s'épanouit en 2010 avec l'obtention du label Entreprise du Patrimoine Vivant et le label Produit Moselle Passion ; elle se fait enfin connaître aujourd'hui à Paris grâce à la première participation de Bianchi au salon Un Bijou pour Noël. Pierre et Alexandre Bianchi présentent des pièces uniques, entièrement réalisées à la main en France.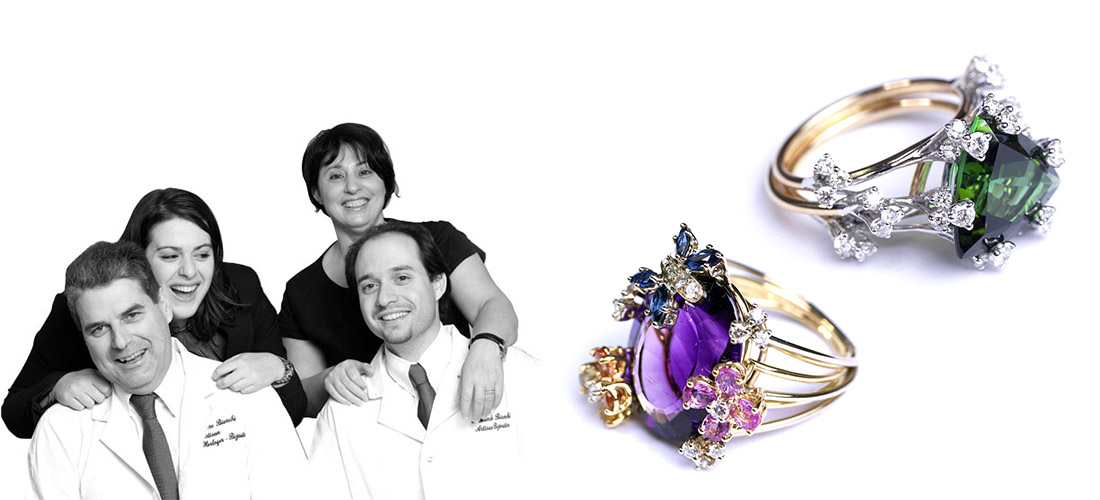 New
Worms Paris
www.wormsparis.com
La Maison Worms Paris est née dès 1900. Spécialisée dans les pierres fines, elle a ouvert sa première boutique parisienne rue Royale. En 1923, le célèbre joaillier Samuel Fred fait son apprentissage chez Worms et s'y découvre une passion pour les perles. En 1950, Worms confie la direction de la maison à François Rambaud. Aujourd'hui, c'est son fils Jérôme Térangi Rambaud, déjà à la tête de la maison Rambaud (spécialiste des perles depuis quatre générations), qui relance Worms Paris. En 2015, il confie le design des bijoux à Nathalie Vaucher Tempier qui crée une collection urbaine et dans l'air du temps.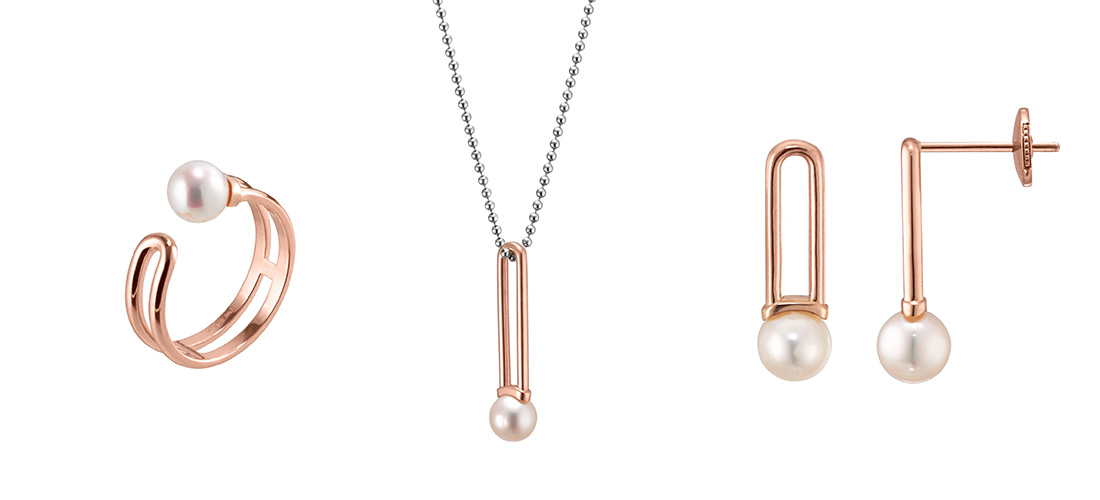 New
Anne Bourat
La marque Anne Bourat est née cette année, fondée par la créatrice Anne Bourat Goldschmid. Après un cursus aux Beaux Arts et à l'école des Arts Décoratifs en 1987, Anne Bourat Goldschmid a oeuvré pendant quinze ans auprès de la maison Cartier. Au cours de sa carrière, elle a collaboré avec d'autres Maisons de la place Vendôme jusqu'au jour où elle a décidé de voler de ses propres ailes et d'imaginer des créations inédites, souvent sur mesure, pour une clientèle sensible à son savoir-faire en matière de joaillerie et qui apprécie le fait que les pièces soient exclusivement fabriquées en France. Trente ans après les débuts d'Anne Bourat Goldschmid, la marque Anne Bourat voit le jour en 2017 et participe pour la première fois au salon Un Bijou pour Noël.
II-Les joailliers historiques
Marc-Alexandre
www.marc-alexandre.com
Marc-Alexandre a toujours eu une place particulière parmi les joailliers créateurs. Son univers réaliste rend hommage aux hommes et à la nature, qu'il interprète avec un soin du détail et un imaginaire singulier. Maître artisan d'art, il manie les outils avec virtuosité, jusqu'à ce que le bijou raconte une histoire. Marc-Alexandre souhaite que ses bijoux « se lisent comme un conte et se portent comme un parfum. » Il ne se considère pas comme un créateur, mais comme un artisan. « D'aussi loin qu'il m'en souvienne, j'ai toujours su que mon expression était manuelle. Mieux qu'une vocation, c'était une évidence », dit-il pour expliquer son parcours. Ses créations font appel au savoir-faire traditionnel de la joaillerie mais la technique se fait discrète pour que n'apparaisse que la surprise créative. Chaque modèle est signé, numéroté et gravé de son nom.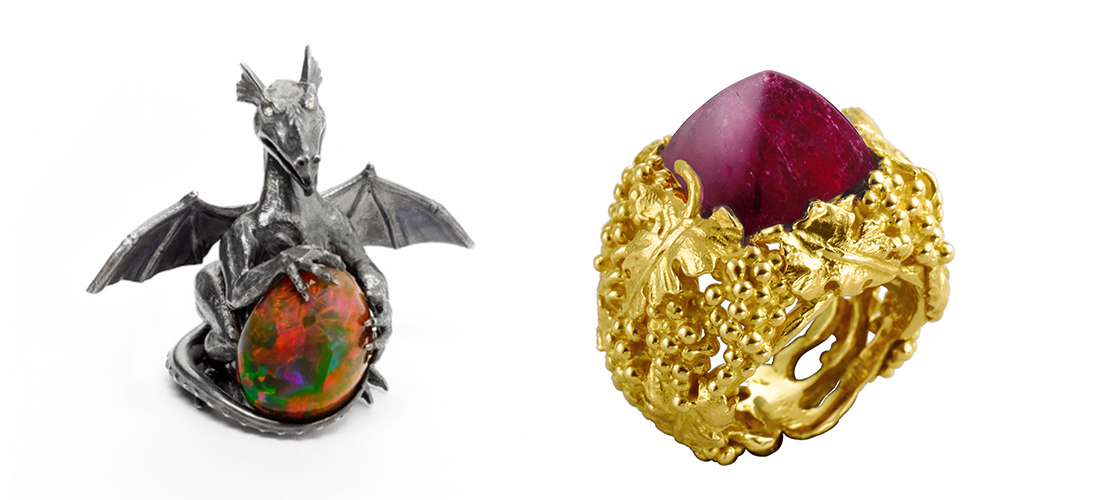 Tiber
www.tiber-joaillerie.com
Pendant plusieurs années, rien ne prédisposait Marie-Caroline Lagache à entrer dans le monde de la joaillerie, si ce n'est l'amour pour les pierres précieuses que lui avait transmis son père Hubert Lagache, directeur de l'Institut National de Gemmologie jusqu'en 1992. En effet, la première partie de la carrière de Marie-Caroline s'était déroulée dans le secteur de la finance et du contrôle de gestion, auprès de grandes entreprises. Pour contrebalancer les chiffres qu'elle maniait chaque jour, elle s'évadait en développant son imagination artistique. Elle suit alors les cours de l'Institut national de gemmologie à Paris, puis ceux de l'Asian Institute of Gemological Sciences à Bangkok, pour finir par ceux de l'école Boulle, section bijouterie. Lorsqu'elle lance la marque Tiber, elle le fait en hommage à son père gemmologue et à son grand-père bijoutier à Lille, qui avait créé le nom Tiber (contraction de « petit Hubert ») pour une ligne de montres. Marie-Caroline Lagache fabrique tous ses bijoux en France, ornés de pierres fines souvent peu connues, qu'elle sélectionne avec le soin d'une experte.
Patrice Fabre
www.patrice-fabre.com
Le joaillier Patrice Fabre crée des bijoux précieux depuis 1981. Le grand public le connaît surtout pour son best-seller : du béton armé emprisonné dans une trame d'or et de diamants. La collection est née en 1986 et a toujours du succès, notamment les anneaux, qui plaisent particulièrement à la clientèle masculine. En 2005, il lance une autre collection destinée aux hommes, autour du diamant brut. Entre temps, il a été deux fois lauréat du De Beers Diamonds International Award, en 1990 et 1996. Il reste l'un des rares créateurs à savoir s'adresser aussi bien aux hommes qu'aux femmes. Pour ses dernières, c'est la ligne Rivières Noires qui a marqué les esprits : des diamants noirs et des perles des mers du Sud montés sur des tiges courbées. Après plusieurs éditions du salon Mes Créateurs Joailliers à l'Hôtel de l'Industrie, Patrice Fabre participe au salon Un Bijou pour Noël.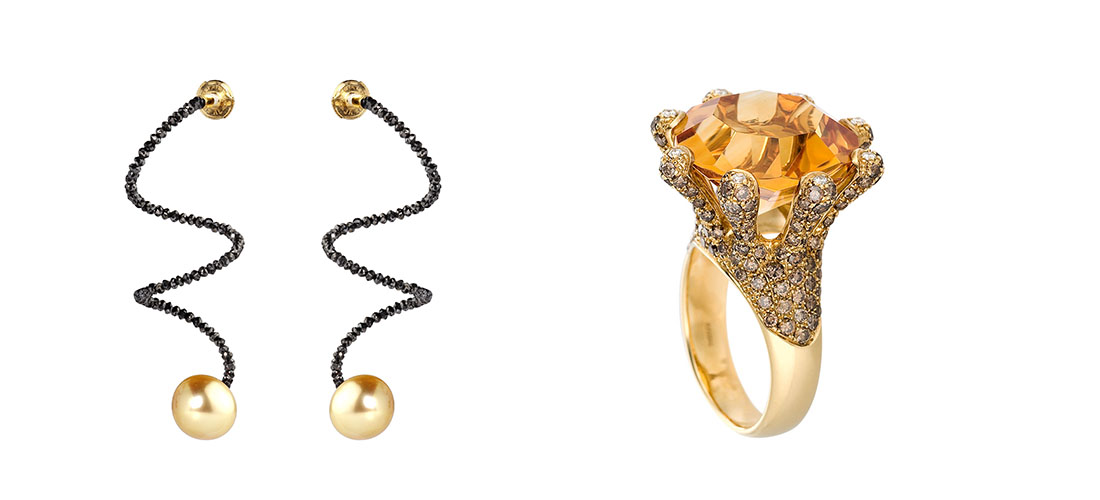 Christine Escher
www.christine-escher.com
Descendante du fondateur des grands magasins Le Printemps, Christine Escher a étudié la gemmologie et le dessin. En 1985, elle a d'abord ouvert à Paris une boutique de bijoux anciens, près de l'Elysée. Puis elle a réalisé une collection pour des maisons de joaillerie, où elle a mélangé le bois à l'or et aux diamants. En 1998, elle remporte le De Beers Diamonds International Award, ce qui l'incite à lancer sa marque éponyme pour présenter ses propres créations. Depuis 2012, elle travaille main dans la main avec sa fille Claire. Toutes deux ont imprimé une nouvelle orientation aux collections, tournées vers la faune et la flore marines. Spécialistes notamment des bagues de fiançailles, elles réalisent aussi créations sur mesure et transformation de bijoux.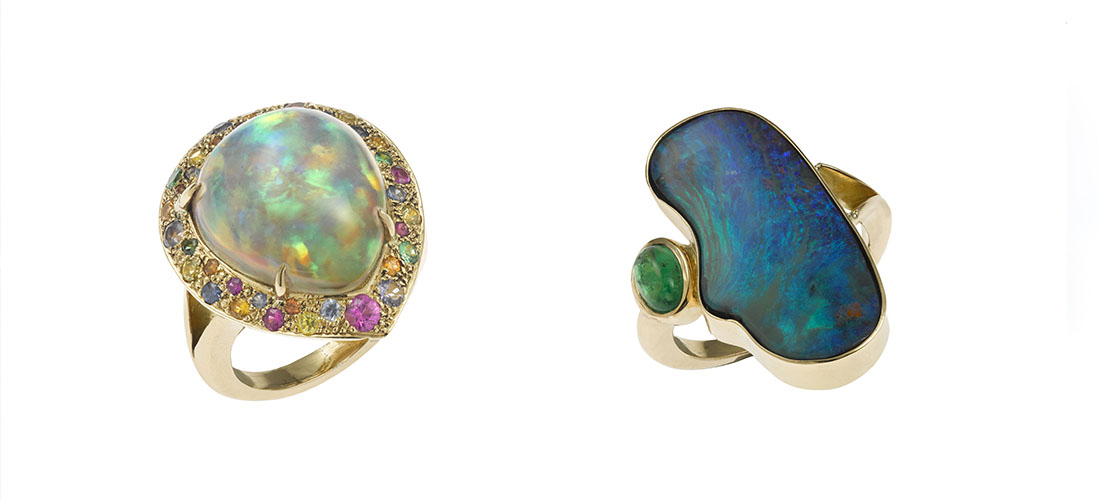 Aube Cambon Bijoux
www.aubecambon.com
Aude Cambon a d'abord étudié le droit et l'histoire de l'art. Après avoir obtenu le titre d'expert en mobilier et objets d'art, c'est vers la joaillerie qu'elle a décidé de se tourner, passionnée par les bijoux et les pierres précieuses. Elle suit alors les cours de la BJOP, l'école de bijouterie de la rue du Louvre, à Paris. Après des stages dans des ateliers de joaillerie, elle lance en 2014 sa première collection de bijoux. Ses créations se veulent contemporaines, tout en rendant hommage à l'art antique du bassin méditerranéen, à ses paysages et jardins, mais aussi à toutes sortes de cultures découvertes au fil des voyages, expositions et visites diverses. Aude Cambon propose son interprétation de toutes ces rencontres. Elle travaille l'or en le sablant, le martelant, le polissant ou le ciselant selon son inspiration. Les pierres prennent ensuite place au centre de ses créations ou en pavage précieux.
Soligems
www.soligems.com
Soligems n'est pas une marque de joaillerie comme les autres, cette SARL est une entreprise solidaire fondée par Véronique Lagache. Une part du bénéfice de chaque bijou vendu est reversée à des associations implantées dans des pays producteurs de pierres précieuses et fines, sélectionnés par Soligems. Chacune des pierres qui ornent les créations de la marque est soigneusement sélectionnée, non seulement en fonction de sa beauté, mais aussi de sa provenance. Véronique Lagache est née à Madagascar, où elle a commencé à se passionner pour le monde des pierres. Elle s'est formée à la gemmologie à l'ING et au commerce à l'ESCP, puis elle a passé une partie de sa carrière dans la finance. Aujourd'hui, elle se consacre au développement de Soligems et à la création de pièces uniques de joaillerie.
III-Les joailliers fidèles
MW Paris
www.mwparis.com
Thu-Thao Le Thi est la créatrice à la tête de MW Paris. Née au Japon, elle a vécu au Viêtnam, en Italie, au Brésil. Aujourd'hui, elle vit en France. Depuis son enfance, elle est fascinée par l'archéologie et l'histoire culturelle de l'Orient, comme de l'Occident. Par exemple, elle édite ses pièces en éditions limitées à huit exemplaires, afin de respecter le chiffre symbolique le plus recherché en Asie. Ses créations témoignent d'un mariage entre mystique et matériel, croyance et visible. Chacune d'entre elles délivre un message. Après avoir créé la société Made by World en 2012, Thu-Thao Le Thi exerce depuis 2013 ses talents pour MW Paris. Elle a déjà exposé à l'Hôtel de l'Industrie, mais aussi au Grand Palais, lors de la dernière édition du salon Révélations.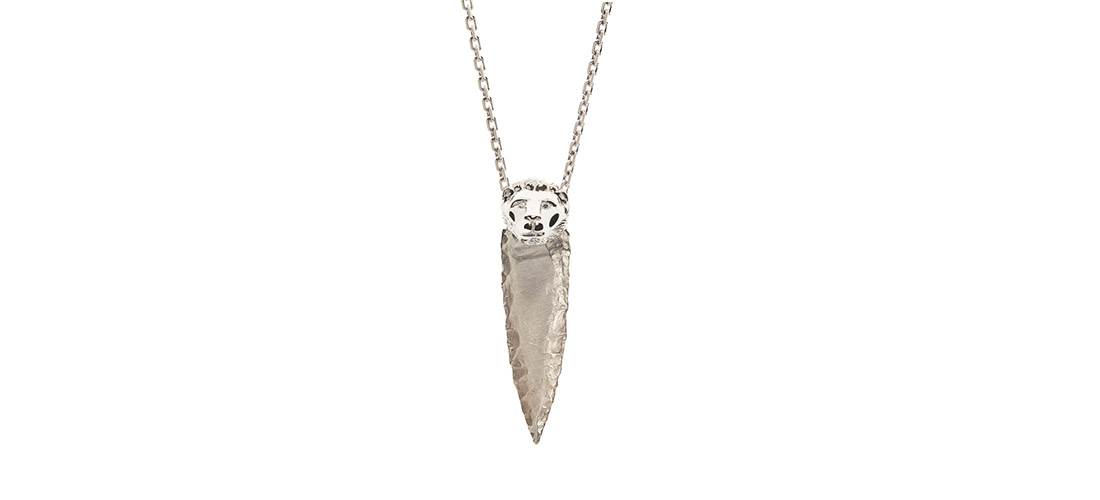 Julie Genet Joaillerie
www.juliegenet.com
Julie Genet a commencé à fabriquer des bijoux pour ses proches, avant de comprendre que ses créations avaient toute leur place sur le marché de la joaillerie. Depuis vingt ans, elle exerce en parallèle le métier de chirurgien dentiste, où elle a appris la technique de la fonte à la cire perdue pour les prothèses. Elle a suivi des stages d'apprentissage de la fabrication d'un bijou non seulement, par les techniques traditionnelles, mais également en CAO, impression 3D ou laser. En 2011, elle a obtenu un diplôme de gemmologue à Londres (Gemmological Association of Great Britain). Avec sa soeur Caroline, spécialiste de la communication et de la gestion de projet, elle a fondé la marque Julie Genet Joaillerie. Ses créations sont inspirées par les héros de la mythologie grecque, les légendes, la bande dessinée ou le cinéma. Selon le modèle, il peut être sculpté à la cire ou conçu par ordinateur, fabriqué de manière traditionnelle ou à l'aide de nouvelles technologies.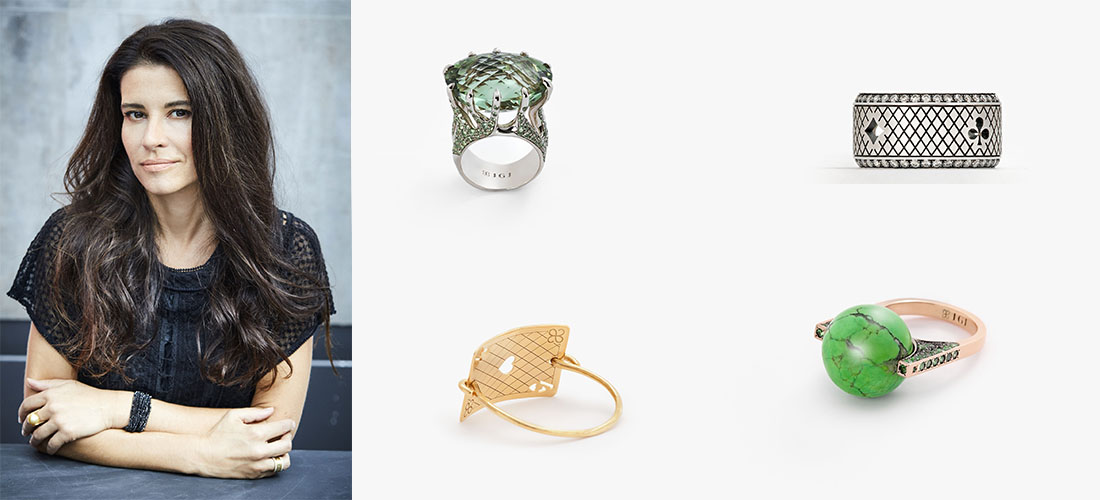 Nathalie Bonnemaille
www.sitesdor.fr
Nathalie Bonnemaille, joailleuse sertisseuse pour l'atelier Si t'es d'Or à Besançon, possède un brevet des métiers d'art. Elle réalise sur commande des créations uniques adaptées à la demande et à la personnalité de chacun. Bagues, alliances, bracelets, boucles d'oreille ou colliers sont réalisés avec les pierres et les métaux les plus précieux : or, platine, diamants, saphirs et autres pierres de couleur. Mais elle imagine aussi des parures plus audacieuses, comme la collection Extra, mélange de météorites et d'or. « C'est à travers la joaillerie que j'ai choisi de m'exprimer », explique Nathalie Bonnemaille pour raconter sa passion pour ce métier. De la conception à la fabrication, elle réalise entièrement les bijoux de l'atelier Si t'es d'Or, qui expose au salon Un Bijou pour Noël une sélection de ses créations.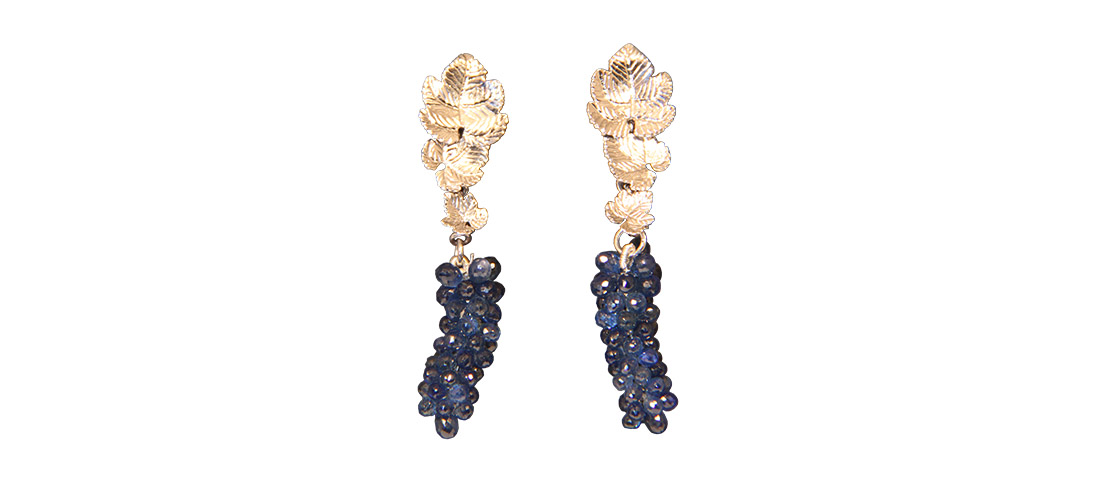 Sanlys Joaillerie
www.sanlys-joaillerie.com
La maison de joaillerie lyonnaise Lyon Alliances Brillants est à l'origine de Sanlys Joaillerie, une nouvelle marque qui souhaite se distinguer par des créations originales, tout en s'appuyant sur le savoir-faire traditionnel du fabricant lyonnais, installé au coeur du patrimoine historique de la vieille ville de Lyon. Sur le site sanlys-joaillerie.com, Sanlys présente notamment la collection Soie d'Or, constituée de fils d'or qui s'entrecroisent pour tisser un entrelacs d'or jaune, rehaussé par l'or blanc. Cette ligne met en lumière deux spécialités lyonnaises : la bijouterie-joaillerie et le tissage de la soie. La collection bicolore Princesse et les alliances Palladium figurent aussi sur le site et sont présentées sur le stand de la marque lors du salon Un Bijou pour Noël.
Maison Beigbeder
facebook.com/maisonbeigbeder
Muriel Beigbeder a créé Maison Beigbeder à partir de sa rencontre avec le monde de la joaillerie. Depuis trente ans, elle crée des bijoux. Elle a commencé par des bijoux fantaisie puis a passé un diplôme de gemmologie et est allée à la rencontre des artisans joailliers : créateurs, lapidaires, sertisseurs, polisseurs, etc. Elle a aussi pris le temps de visiter des mines de gemmes et y a découvert diverses pierres, dont les couleurs et les matières sont à l'origine de la création de chacun de ses bijoux. Elle imagine des pièces uniques à partir de ces pierres ou perles, et raconte une histoire à travers cette création, en attendant de rencontrer celui ou celle à qui elle est destinée.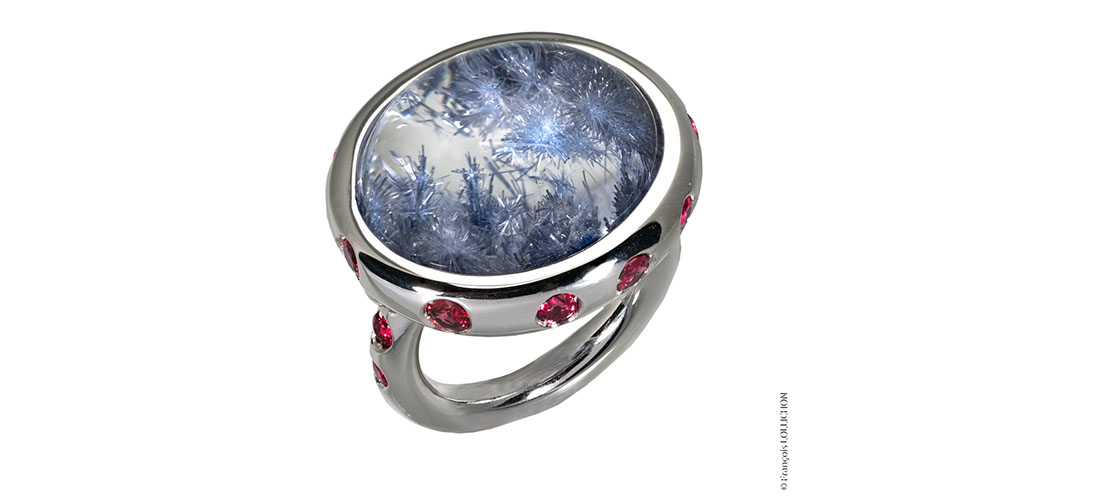 Carine Loeillet