Un spot idéalement conçu à priori pour les américains (Sainte Lucie est à moins de 4 h des US) avec la grande plage aménagée, les piscines, le golf privé de 9 trous vue sur la mer, les 9 restaurants et piano-bars et les 350 chambres – suites dont 150 bénéficient d'un butler, joignable à tout instant via un téléphone privé cellulaire.

Le rêve à l'américaine dans ce resort de 220 hectares, car le service est assez exceptionnel, notamment dans les suites avec butler, qui proposent une jolie chambre avec king-size-bed très confortable, TV écran plat, baignoire et grande vasque subtilement intégrée et grand espace douche à l'italienne séparée.
Dans le salon attenant (mais fermé), grand canapé, table basse, mini-bar, machine à café…
Le plus fun est l'ouverture sur une petite terrasse avec table, chaises et surtout une baignoire ronde plongeant sur la mer !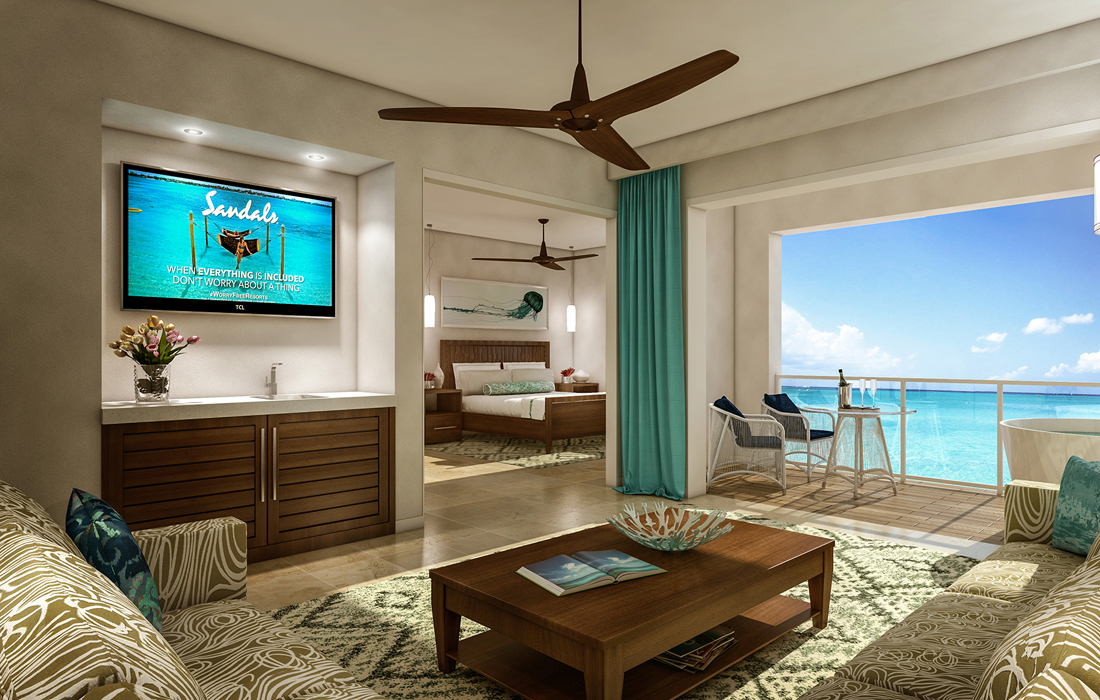 En revanche, les accros à Wall Street ou à la City de Londres choisiront les Sunset Bluff Millionnaire Suites avec piscine privée et superbe room service.
La formule « all inclusive » permet pourtant de faire un agréable voyage gourmand dans le resort, même si on reste dans une prestation de qualité moyenne.
On peut choisir entre l'Armando's Restaurant où l'Italie est bien traitée avec les pâtes à la Vongole, le Neptune, le restaurant de la plage, où l'on sent sort bien avec une pizza salade et les encornets frits, le Kimono pour une petite évasion spectaculaire version tappanyaki par salon d'une douzaine de personnes ou le Soy Sushi Bar et The Pavilion qui offre un immense buffet de cuisine internationale.
The Pitons, par contre est loin d'illustrer la cuisine créole, tout comme la Toc qui se veut français et gastronomique ! Bonjour « The old faschion way » avec les cuisses de grenouilles, les escargots de Bourgogne, la soupe à l'oignon… sous une déco années 50 – 60, service gants blancs…
Les chansons de Jacques Brel ou de Piaf rappellent un autre temps, que les moins de 30 ans ne pourront pas connaitre !
Les clients viennent ici pour profiter de la vie et la diversité des loisirs est réellement un service plus, avec le golf, les 5 tennis, le magnifique spa (les esthéticiennes sont moins spectaculaires), le centre de plongée (où l'on délivre même le brevet de plongée), les sports nautiques… La totale pour rester fun sans complexe. Et peut-être imaginer un mariage à l'exotique ! Un seul bémol peut-être : on ne parle qu'anglais !
La nouveauté 2018 : l'ouverture d'un nouveau Sandals : La Source Sainte Lucie, un 6 étoiles de 350 chambres et suites.
www.sandals.fr ou tel : 08 05 11 94 71